Best Telescopes Under $200
Here at High Point Scientific, we strive to connect you with the telescope that will fit your specific needs and provide you memories for many years to come. Amateur astronomy can get expensive, however, and our wallets are not always as big as our dreams of exploring the night sky. But why let that stop you from navigating the stars? Our tech team has created a list specifically for those who wish to dive into the night sky without breaking the bank. Here is a list of the best telescopes under $200 and why the telescope enthusiasts at High Point love them:
---
Our tech team recommends the Meade Infinity 102 telescope for those looking for a well-accessorized setup that is great for planetary views and deep sky objects. This telescope includes three eyepieces and a 2x Barlow which will double the focal length of the telescope, thus doubling the magnification of the eyepiece and providing a total of six different magnification combinations! It includes a steel tripod on a simple Alt/Azimuth mount which is easy to set up and adjust with the included mount handle. The 102mm aperture and longer focal length provide crisper images of planets and deep sky objects, and the doublet Refractor optical design provides better contrast and sharpness without requiring any maintenance. All these accessories and only weighing 20.5lbs! Our tech team thinks the Infinity 102 could be a great telescope that the entire family would enjoy.
---
Who doesn't love a telescope that comes with lots of accessories while still offering great views of celestial objects? Here at High Point, our tech team can't get enough of them! This Meade Polaris 130 mm Reflector Telescope has large 5" optics that offer a satisfying viewing experience for beginning astronomers. The Meade Polaris 130 German Equatorial mount, with it's slow-motion control knobs, makes it easy for you to track night sky objects as they move across the sky, while the three included eyepieces give low, medium, and high powered magnifications for viewing different kinds of celestial targets, including the Moon, Saturn, Venus, Mars, Jupiter and even galaxies and nebulae! The Meade Polaris 130 Reflector Telescope is a great way to introduce yourself or a loved one to the wonders of the Universe!
---
Telescopes like the Celestron Astromaster 114 EQ are great when it comes to portability and affordability. The lightweight CG-2 style Equatorial mount with slow motion controls makes this an easy to move telescope that is great for tracking night sky objects. The optical design provides a longer focal length than most other 114mm aperture scopes because of the built-in amplifier on the front of the focuser drawtube. It includes accessories, such as the 10mm eyepiece, which provides decent planetary and up-close lunar views, and the 20mm eyepiece, which is a lower power, wider field of view for the moon and bright deep space objects. For your planetary viewing pleasure, this telescope and included eyepieces could be exactly what you need.
---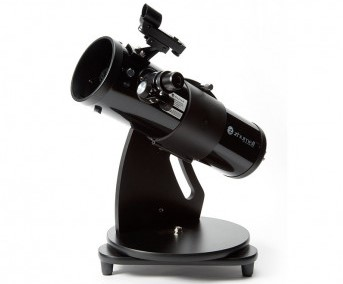 Ready for a portable Dobsonian that's great for lunar and constellation viewing? The Zhumell 114 Table Top Dob is a low weight Newtonian style telescope on an Alt-Azimuth Dobsonian mount that is great for those lunar views. It is very low weight and can be up-and-running very quickly. It comes with a red dot finder, 17mm and 10mm eyepieces, making it a fully functional telescope kit that will be ready for many adventures you wish to take it on.
---
Accessories are often a major selling point when it comes to purchasing a telescope, and the well-accessorized Meade Infinity 80mm definitely delivers. The Infinity 80mm telescope includes 3 eyepieces, 6.3mm, 9mm, and 26mm, for low, medium, and high power. It also comes with a steel tripod on a simple Alt-Azimuth mount. This combination makes for easy setup and adjustment when locating night sky objects. And the telescope only weighs 19lbs! The Infinity 80mm telescope is a great grab-and-go system! But the accessories don't end there: It also includes an erect image diagonal which makes it a great scope for terrestrial viewing. With the shorter focal length, the Meade Infinity 80mm provides expansive all sky views for bright clusters and bright deep sky objects such as Orion's Nebula. The refractor optical design also provides sharp images with no collimation required. A lightweight, fully accessorized scope that can work day or night, land or sky, the Meade Infinity 80mm is ready when you are!
---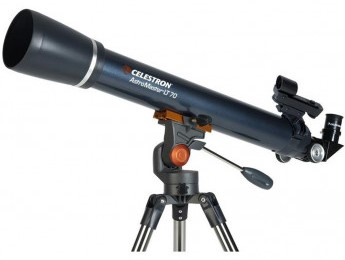 If you're looking for an easy to use tripod and a well-accessorized telescope, then look no further. The Celestron Astromaster 70LT is a telescope that has an easy to use Alt-Azimuth tripod, much like a photography tripod. It includes two eyepieces (10mm and 20mm) and a sturdy red dot finder. All this for under $200! The longer focal ratio along with the fully-coated, all-glass optics give better color correction and sharpness when compared to other telescopes in the same category. This is a telescope that is easy to use and gives great lunar views! Throw in a higher power eyepiece (not included) and it can even provide decent planetary viewing!
---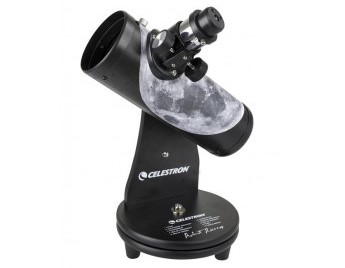 The moon is one of the most fascinating objects in the night sky. We see it all the time, yet looking at it with a telescope offers magnificent views we couldn't otherwise appreciate with unaided eyes. Here at High Point, our telescope enthusiasts know that having a telescope that specializes in lunar views is a great way to understand the mysteries of the moon. That's why they suggest the Celestron First Scope Moon Series Telescope. This is an aesthetic Newtonian style telescope on a table top, Alt-Azimuth Dobsonian mount. This makes it ultra-portable and great to take with you to star parties and camping. The First Scope Moon Series telescope's 3" (76mm) aperture and 20mm and 4mm eyepieces make it great for views of the moon's craters and offers expansive views of the constellations.