We are pleased to announce the best telescopes for 2020! Each telescope was evaluated for its performance and value relative to its peers. The list we compiled contains some brand names we are all familiar with and others that are not. At High Point Scientific, we work to constantly uncover value for our customers and the list below represents the best of the best in mid-range telescopes today!
Telescope Bundle: Celestron NexStar 8SE Bundle -
The Celestron NexStar 8SE is one of the most celebrated telescopes in amateur astronomy. We've curated the ultimate bundle to accompany this scope, carefully selecting each accessory to provide you with a quality astronomy experience from the start. Accessories include: five superior-grade Celestron Plössl eyepieces, a Barlow lens, a moon filter, 6 colored eyepiece filters and an aluminum carrying case.
SHOP NOW
Dobsonian Telescope: Apertura AD8 -
Named 'Best Telescope for Beginners' by AstroBackyard, this 8" Dobsonian telescope is perfect for both planetary and deep-sky observations. The Apertura AD8 package includes everything you'll need to get started, including a full-sized right-angle image correct 8x50 finder scope, two eyepieces, a laser collimator, cooling fan, filters, and more. Like AstroBackyard writes, this scope "manages to stand out in a busy crowd of competing 8-inch Dobsonian reflectors." Learn more about what makes Dobsonian telescopes great for beginners!
SHOP NOW
Computerized Telescope - Dual Fork Arm: Meade 10" LX90 -
The LX90 is a great choice for both beginner and advanced astronomers. You get more for your money with this scope, because Meade manufactures their primary mirrors larger than their listed aperture. That's a 'bonus' ¼" inch of aperture with this already impressive telescope! Not to mention, the LX90 moves from star to star at 7 degrees per second, more than twice as fast as the competition -- and includes Astronomer Inside and AudioStar technology.
SHOP NOW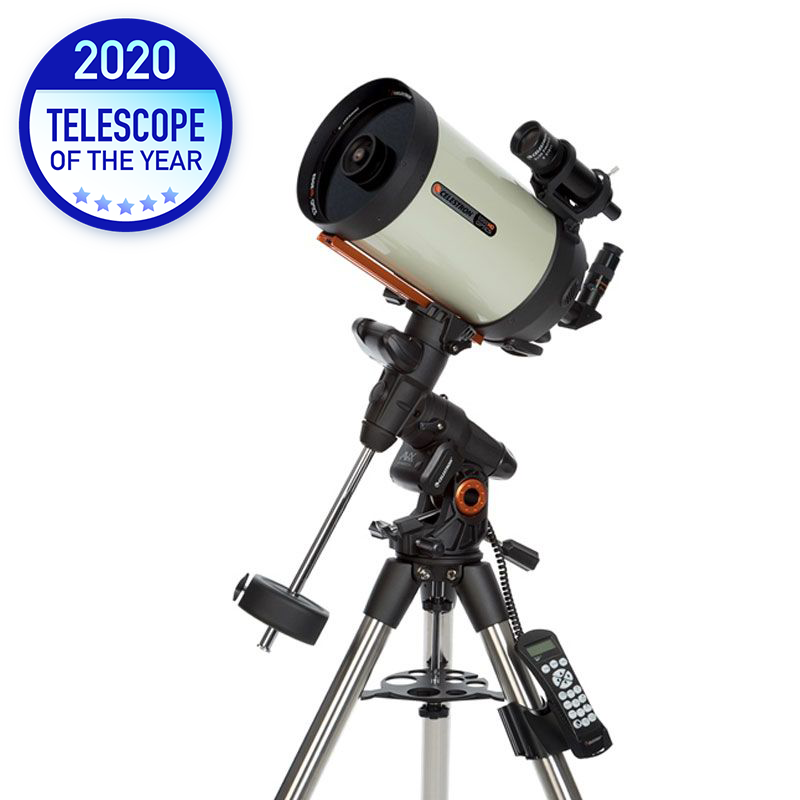 Computerized Telescope - Equatorial Mounted: Celestron Advanced VX 8" Edge -
Built for astrophotography, this Celestron Advanced VX telescope system comes equipped with the revolutionary 8" EdgeHD Optical Tube and a new, finely tuned Advanced Series VX Equatorial Mount. The scope has a 30 lb. payload which allows for stacking astrophotography accessories such as guide scopes and cameras. This scope also comes with a free Celestron Polar Scope to make polar alignment easier and faster.
SHOP NOW
Computerized Telescope - Single Fork Arm: Celestron NexStar 6SE -
When it comes to ease-of-use, you can't beat the Celestron NexStar SE! On average, it takes a new telescope user approximately 5 minutes to do a full sky alignment, and once aligned the Celestron 6 SE is incredibly easy to operate. Comes complete with a fully computerized operating system, flash upgradeable hand control, superior coatings, Celestron's revolutionary SkyAlign telescope alignment software and much more! When you purchase the NexStar 6SE, we'll include two eyepieces, a Barlow lens and a moon filter (while supplies last).
SHOP NOW
Computerized Telescope - Entry Level: Celestron NexStar 130 SLT -
If you are looking for a beginner's telescope with impressive performance, the Celestron NexStar 130 SLT computerized telescope is a smart choice! This scope can be up and ready to use in a matter of minutes, and has 30% more light-gathering power than their 114 mm telescope. The computerized hand control of this SLT telescope gives you the ability to automatically slew to any of its 4,000+ objects, including over 600 galaxies, 300 clusters, and dozens of beautiful binary stars. Get 5" of aperture and a computerized mount for a price that can't be beat!
SHOP NOW
Entry Level Refractor: Meade Infinity 102 -
The Meade Infinity 102mm Altazimuth Refractor Telescope comes with everything you need to view the wonders of the night sky the first time out. This Refractor Telescope by Meade has a large 102 mm (4") diameter objective to capture more light from celestial objects, making it easier for you to see fainter targets! It includes an altazimuth mount with two slow-motion control knobs, for easy and quick tracking of celestial objects. This 102 mm (4") Altazimuth Infinity Refractor Telescope by Meade delivers bright images and it is ideal for viewing both land and celestial objects.
SHOP NOW
Entry Level Reflector: Celestron AstroMaster 114 -
The Celestron AstroMaster 114 EQ reflector telescope is a great beginner telescope for an adult or older child. It's 4.5" mirror will provide clear and bright images of the Moon, the planets, and dozens of deep-sky objects like the Orion Nebula, the Andromeda Galaxy, the great star cluster in Hercules, and much more. The AstroMaster equatorial mount is easy to set up and requires no tools to do so. Unlike a simple alt-azimuth mount, an equatorial mount will allow your telescope to track objects as they move across the sky throughout the night.
SHOP NOW
Table Top Reflector: Zhumell Z114 Table Top Reflector -
The groundbreaking Z Series Dobsonians from Zhumell have been a revelation in the world of amateur astronomy. Now with the compact Z114, you can enjoy all the benefits of Zhumell's unparalleled quality in a tabletop Dobsonian with excellent portability. The Zhumell Z114 is perfect for those just getting started with astronomy, or for those in need of a grab-and-go scope to add to their repertoire.
SHOP NOW
Portable Astrophotography Refractor: Apertura 60 EDR -
The Apertura 60EDR refracting telescope is portable, easy to use, and offers optics made with Ohara FPL-53 glass for beautiful contrast, amazing color correction and pinpoint sharpness within its magnification range. Super versatile, the Apertura 60mm Doublet APO can be used as a travel telescope, a guide scope, a super finder or a spotting scope! Whether you want to use the 60 EDR for visual observations or astrophotography, this 60mm refractor will provide spectacular images of objects in our solar system, bright deep-sky objects, the Sun (with proper safe filtration), animals, landscapes, and more!
SHOP NOW