For many, astrophotography is a life-changing hobby and one of the most intimate ways we as human beings can truly engage with the beautiful universe in which we live. Through a telescope you can capture beautiful nebulae and galaxies, billions of light-years away from the Earth. While some astrophotographers are able to use their gear to capture awe-inspiring photos, others ultimately leave the hobby due to not buying the right equipment for their skillset. In this article, we're going to be covering five of the best products for someone who's already achieved the basic skills required for astrophotography and is looking to take the next step.
#5. Sequence automation (ASI Air / SGP / NINA)
The first thing on our list that's an absolute game-changer is the ability to automate your astrophotography. Doing this hobby, you'll find out pretty quickly that standing outside in the cold for hours on end in the middle of the night can get pretty exhausting. So why not go inside, get a hot coffee, and stay warm while you're imaging? Sequence automation software can do your entire astrophotography for you! Programs like Nighttime Imaging 'N' Astronomy (NINA), Astro Photography Tool, Ekos, and many others will enable you to control how many images you'd like to take, the pointing of your mount, plate-solving, and much more - all without needing to use a hand controller. Many automation programs allow for the ability to control multiple different mounts and cameras through one universal driver known as ASCOM (or INDI if you're using a Linux or MacOS system). Additionally, they offer the ability to control even your Nikon, Canon, or Sony DSLR.
---
Number four on this list is a complete autoguiding system. This includes a guidescope, guiding camera, and software to be able to perform guiding with. Autoguiding works by having a smaller, secondary camera communicate with your telescope's mount and communicate any imperfections in your mount's tracking. As a result, you're able to take much longer exposures, resulting in brighter images and much more data. The most common software used to control autoguiding is PHD2 - or Push Here Dummy 2. PHD2 controls the calibration process, autoguiding, and can easily be connected to programs like NINA or APT. We recommend an autoguider with a focal length of at least 150mm. For the best autoguiding results, a monochrome camera is recommended (although not required) due to its better resolution capabilities.
---
#3. German Equatorial Mount (GEM) with a Weight Capacity Less than 35 lbs
Next on our list is an equatorial mount, preferably one with GoTo capability, autoguiding support, and a weight capacity under 35 lbs. This includes mounts such as the Celestron AVX, Sky-Watcher HEQ5, iOptron GEM28EC, or a similar class of mount. These mounts are heavy enough to support the weight of a modest telescope while being light enough that they're easily transportable. A German equatorial mount is a substantial upgrade over a star tracker as recommended in our previous article, and would enable you to take incredible photographs of the night sky. In order to take long exposures without errors, we recommend keeping the weight capacity of your mount to about half of the mount's payload capacity.
---
Coming in at number two on our list is a dual bandpass filter. These are designed to work with color cameras sensitive to hydrogen alpha, such as a modified full-spectrum DSLR or a one-shot color camera from ZWO, QHY, et cetera. These filters work by restricting light from the sky to two or more specific wavelengths, usually the H-Alpha and the O-III lines. These filters are suited solely for emission nebulae and are not recommended for imaging galaxies or reflection nebulae. Some great examples include the Optolong L-eXtreme and L-eNhance filters; as well as the AstroHutech NBZ Ultra High Speed filter for fast telescopes. Interested in learning more about astrophotography filters? Check out our video:
Choosing the Right Astrophotography Filters
---
#1. One-shot color camera
And lastly, number one on our list would absolutely be a one-shot color camera, preferably one that includes cooling capability. This includes cameras like the ZWO ASI 183MC Pro, QHY 294C, ZWO ASI 533MC Pro, and other options. A one-shot color camera can absolutely transform everything for your image quality, especially if you're making a leap from using a DSLR. This is due to the ability to cool the camera to reduce thermal noise in your images. As a result, you'll get images that are much higher quality, less noisy, and have more signal. This also makes calibration frames easier to take, as dark frames are highly temperature-dependent. Instead of having to continuously retake dark frames as you would with a DSLR, you can reuse your dark frames again and again based on your exposure. OSC also has an advantage over an unmodified DSLR in that they are much more sensitive to the reds from hydrogen alpha.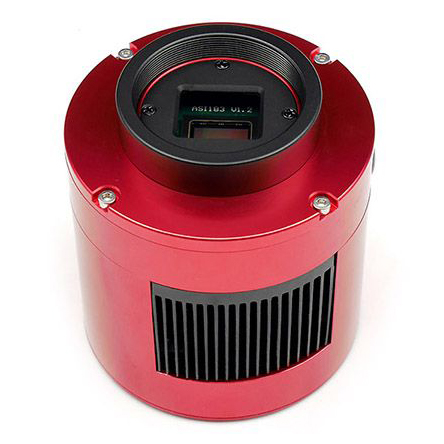 Honorable Mentions
Having power while you're out in the field is critical, especially if you're away from your backyard. Having a source of continuous, reliable power is absolutely essential if you're going out to a dark sky site. Any power tank that includes 12v DC output power should work with most GoTo mounts like the Celestron AVX and others. A good example of a power tank is the Celestron PowerTank Lithium LT, which can supply up to 8 hours of consistent power at the voltage optimally suited for your telescope mount's peak performance.
This Article was Last Updated on 07/11/2023
---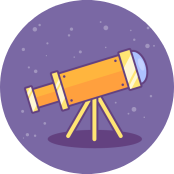 Questions? Learn More!
Interested in learning more about astrophotography? Check out our articles in the Astronomy Hub for all your astrophotography and astronomy needs!