CELESTRON STARSENSE EXPLORER REVIEW
Want to take a guided tour of the Universe without investing in a computerized telescope? Turn your smartphone into a top-notch celestial object finder and tour guide when you pair it with the award-winning, budget-friendly Celestron StarSense Explorer Telescope! Just load the free StarSense Explorer app on your Android or Apple smartphone (most models are compatible), place it in the high-tech phone holder included with the StarSense Explorer telescope of your choice, and you'll be gazing at galaxies, nebulae, star clusters, and planets from the Tonight's Best list in no time! No cell signal required!
The High Point team is super excited to review Celestron's amazing StarSense Explorer technology! It was a favorite at the 2020 Consumer Electronics Show (CES) in Las Vegas, and even made the cut for Best of CES 2020 by Newsweek! Tech-savvy CES attendees, as well as our customer service staff, were blown away by how easily their smartphone, paired with the specialized holder and telescope, could find the best objects in the sky and, with large, orange arrows, guide them as to which way to push the telescope to center the object in the field of view. With StarSense Explorer, finding and centering objects is quick, easy and satisfying, and since you already own your smartphone and the app is free, a StarSense Explorer telescope is way easier on the wallet than a computerized telescope! Let's take a look at the major components of the Celestron StarSense Explorer telescope series!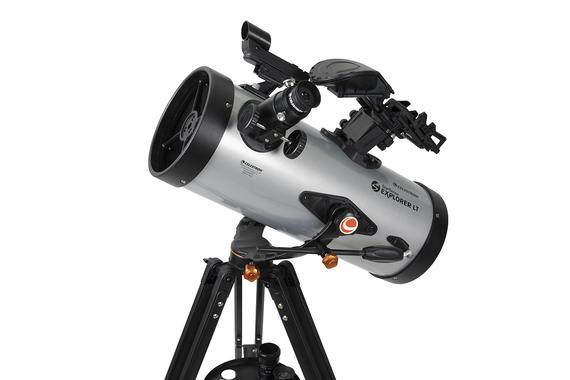 THE STARSENSE EXPLORER TELESCOPE
One of the huge benefits of the StarSense Explorer system is that it does not require an expensive motorized, computerized telescope! Instead, Celestron has mounted the innovative smartphone holder on four basic telescopes on alt-azimuth mounts (the easiest mount to use) to keep the cost reasonable while still offering the enjoyment and satisfaction of telescopes costing hundreds of dollars more. We do recommend that you purchase the StarSense Explorer model with the largest aperture (size of optics) that you can afford, however, since bigger optics gather more light and allow you to see more detail in celestial objects.
Regardless of the aperture you choose, all of the StarSense Explorer telescopes come with a full-sized tripod with accessory tray, the smartphone dock, two eyepieces and a red dot finder. These accessories allow you to use your telescope with or without your smartphone if you choose. Other accessories are model specific and will be listed below. Here are your StarSense Explorer telescope choices from smallest to largest: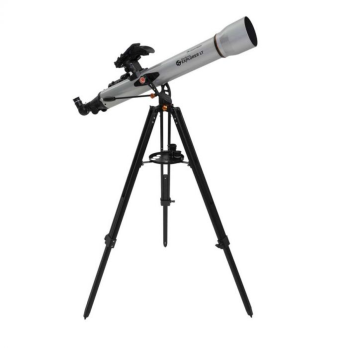 1.Celestron StarSense Explorer LT 80 mm Refractor: This 80 mm refractor telescope is the lightest StarSense model, weighing in at about 9 pounds. The smartphone holder is mounted on the top of the telescope tube. The LT 80AZ gathers enough light to show you the Moon in all its glory, as well as Saturn, Jupiter, Mars, Venus, and many bright deep-sky objects. Refractors can double as daytime spotting scopes as well, although you would forego using your smartphone when viewing earth-based objects. This 80 mm refractor also comes with a 1.25" diagonal and a 2X Barlow lens.
2.Celestron StarSense Explorer DX 102 mm Refractor: If you'd like to stay with a refractor but want more light-gathering, consider this 4" StarSense Explorer DX model. When compared to the 80 mm above, the 102 mm gathers 63% more light and will yield more detail than smaller scopes. Keep in mind that this telescope does weigh about 5 pounds more (14.2 lb) due to the larger OTA and the DX mount upgrade, but it is still quite portable. Since this is a refractor, the DX 102 also comes with a 1.25" diagonal
3. Celestron StarSense Explorer LT 114 mm Reflector: A Newtonian reflector uses mirrors instead of lenses to gather light and offers you more bang for your buck when it comes to aperture size. This 114 mm (4.5") StarSense Explorer LT has twice the light-gathering of the 80AZ LT, but costs just the same and weighs only about a pound more! The smartphone dock is mounted on the side of the telescope tube for both this reflector and the 5" model below, and besides the accessories listed above, the 114 LT also comes with a 2X Barlow lens.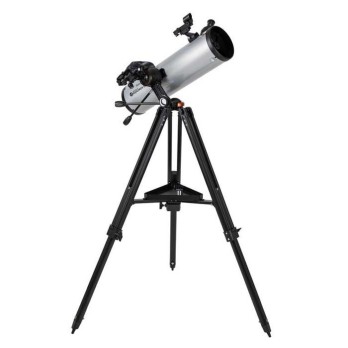 4. Celestron StarSense Explorer DX 130 mm Reflector: This 5" Newtonian reflector has the biggest optics in the StarSense Explore telescope line-up, but it is still very portable at just 18 pounds. The 130 mm mirror gathers about 30% more light than its little brother, the 114 AZ, allowing you to see even more detail on the planets and other celestial objects. The DX mount upgrade offers more stability and dual slow motion controls.
THE STARSENSE EXPLORER PHONE DOCK
The StarSense Explorer Dock is not just any old smartphone holder for your telescope! It has a specially designed integrated mirror that works in conjunction with your smartphone's camera to gather star pattern data for the free StarSense Explorer app. A built-in shade keeps stray light from reflecting off the mirror and messing with the data. A spring-loaded clamp holds your smartphone firmly in place, and Celestron has provided adjustment screws on both axes (X and Y) that can be tightened or loosened should you prefer more or less holder tension. Please note that while the dock is capable of holding many different smartphone sizes, it is too small to hold an iPad or tablet.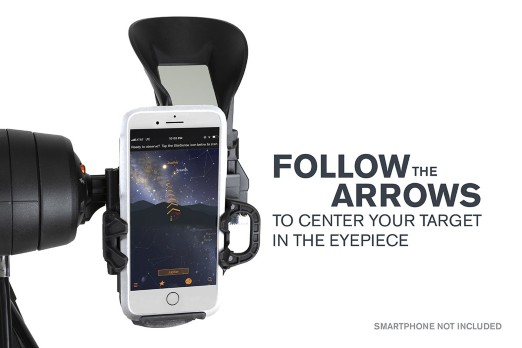 THE STARSENSE EXPLORER APP
Download the free StarSense Explorer app from the Apple App Store or Google Play to bring everything together and make the magic happen! We recommend you go ahead and get the app before your telescope arrives. While full functionality will not be activated without a StarSense Explorer telescope, you can take a look at settings, follow along with the Quick Start Tutorial, look at the Tonight's Best Objects list, and learn how easy it is to get more information about an object you plan on looking at. In fact, we think the StarSense Explorer app is worthwhile all on its own!
Once your telescope arrives you will find a postcard in the box with an Unlock Code printed on it. This same code will unlock up to 5 compatible phones, allowing other family members to use the telescope, etc. Once you enter this code into the app it will enable full telescope pointing functionality and, after following a few steps to center and align your smartphone with the StarSense Dock, you will be ready to observe and learn about all the best celestial objects! Here are a few highlights of the app: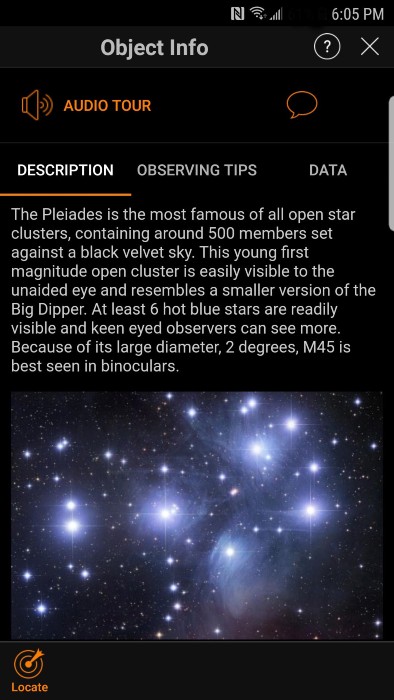 You'll get a real-time graphical view of the sky without the need for a cell signal!
A list of the best objects visible from your location is auto-generated in an easy to read list form. Just choose one and away you go!
Bright orange arrows mark the way to your chosen object, followed by a green bullseye when it's time to look in the eyepiece.
Want to learn more about the galaxy, nebulae or planet you are looking at? Just touch the object's name on the screen and an orange box will appear below. Touch that box and read a description, see basic info on the object, like how far away it is, or get observing tips! Major objects, like the Andromeda Galaxy, for instance, may have audio information as well!
SMARTPHONE COMPATIBILITY
The StarSense Explorer telescopes work with a wide range of smartphones, including the iPhone 6 or higher as well as Android 7.1.2 smartphones that were manufactured in 2016 onward and have a camera, gyro and accelerometer sensor.  Here is a complete list of StarSense Explorer compatible smartphones that were tested for compatability; the majority of them work fine, but there is a shorter list showing those that were incompatible as well. If your smartphone is not on the list it does not mean it isn't */ compatible, just that it hasn't been tested. One quick way to check compatibility if you're not sure is to download the app. When you open the StarSense Explorer application, it will indicate compatibility.
SETTING UP YOUR STARSENSE EXPLORER TELESCOPE
With an easy-to-use alt-azimuth mount and zero internal electronics, all models of the Celestron StarSense Explorer telescopes are super easy and fast to set up. To get started, download the Quick Start Set-Up Guide for your StarSense Explorer model below. We recommend downloading the guide before you start unpacking the telescope's components so that you can follow along from the beginning. These guides have plenty of pictures and basic written set up instructions that will get you observing in no time!